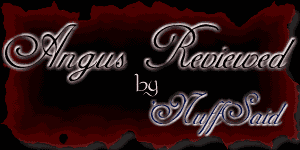 We are proud to present to you movie reviews by my friend 'Nuff Said, provided for your edification and rental assistance.


THE RAT PACK

Director Rob Cohen and HBO offer up a small part of the lives of Frank Sinatra, Dean Martin, Dammy Davis Jr., and Peter Lawford (otherwise known as the Rat Pack... duh...). The story takes us along on the rollercoaster that was Frank Sinatra's life. Ray Liotta plays the unsinkable "Chairman of the Board" not only well, but believeably. He was frightening when needed and soft and comforting at times. Ray showed the dichotomy of Frank Sinatra well. Joe Mantenga as Dean Martin was a bit of a stereotype, but enjoyable. Don Cheadle, who played Sammy, did an expert job and portrayed the role thoughtfully with none of the stereotypes that one might expect to see. His performance was compelling. Our beloved Angus plays the intrepid Peter Lawford, messenger boy between Frank and the Kennedys. Although, in this story, Peter Lawford is a bit of a shmuck, Angus does it well (kinda makes you wonder, doesn't it?).

THE UPSIDE: Angus..... (sort of) naked............. shower........... and there's a bit toward the middle of the movie where there's a brief shot of him in bikini briefs where you get to see his....... um..... package. 'NUFF SAID.

THE DOWNSIDE: Some of the dialogue made me wonder if people really talked like that back then.

IN SHORT: This is an enjoyable romp that is a MUST OWN for any true Angus fan.

This is available in video cassette and I got it at Blockbuster.



---



BRAVEHEART

I know, I know... We've all seen it a thousand times. It's the first time we layed eyes on our beloved Angus and totally forgot about Mel Gibson (Mel who?), but this is one of those movies that's going to be around for a long time. We all know the story and how historically inaccurate it is, but that's one of the things that makes it so great; the fact that the movie made us go and look up the actual history behind it. The plot of the movie is so good that I laughed, I cried, and I almost forgot Angus (oh horrors!).

THE UPSIDE: Angus in a kilt....... and if you freeze frame it right at the moment at the end of the movie where he's running to stop Mel (Mel who?) from getting the crap beat out of him, you get to see a bit of thigh... 'NUFF SAID.

THE DOWNSIDE: Okay, why don't we all just admit it. Mel hogged the movie. We wanted to see more of the other characters, but just got Mel, Mel, Mel. AND they spelled Angus' name wrong. I'd be more than a little upset if I were him.

IN SHORT:This movie is so darned good that it's a MUST OWN not only for Angus fans but for every red-blooded American...

You can get this one...well.... everywhere...I bought my copy....and you should too...



---



STILL BREATHING
(I hope so, because I'm not giving it CPR)

The fact that James F. Robinson is a first time director is painfully obvious. If that's not bad enough, he wrote the screenplay as well. The story of a Texas performance artist (Brendan Fraser) envisioning his one true love, an LA conartist (Joanna Going), could have used a few re-writes. The characters that were trying to be quirky and fun turned out to be... idiotic. Brendan fans, don't get your hopes up. Through the whole movie it looks like he hasn't showered in a month. As for our beloved Angus, he's in two (count 'em.. two) scenes. His role required him to be a slimeball with an American accent, neither of which he does well, but I don't blame him entirely. Under better direction, it could have worked.

THE UPSIDE: Angus' voice..... there's a bit toward the beginning of the movie where that's all you hear and it's not just that... it's what he says. Just turn the TV up, close your eyes and let your imagination run away with you.....start listening when you see them carrying the painting.....'NUFF SAID.

THE DOWNSIDE: Still Breathing is trying to be a quirky romantic comedy in the vein of Notting Hill and it just doesn't work.

IN SHORT: This movie is at best watchable. It didn't make my eyes bleed or anything. If you're a true Angus fan, you'll take a gander at it, but little else.

I got it on video at Blockbuster.....(I wonder if the clerks there have noticed a pattern in my rental record)



---



WARRIORS OF VIRTUE
(or: Everybody was kung foo fightin')

Our beloved Angus gets to play the bad guy in this one (I think that's why he did it). Director Ronny Yu attempts to tell the story of a boy (Mario Yedidia) with a disability that can't play on the football team who gets magically transported to the land of Tao. Of course Komodo, the bad guy (our beloved Angus), is trying to take over and is thwarted by, of all things, kung foo fighting kangaroos. This is a bad take off on the Power Rangers and The Goonies with fight scenes that would be challenging to the most experienced Mortal Kombat player to decipher. Our beloved Angus runs the spectrum of emotions in this one. I don't think Yu could decide if he wanted Komodo to be dark, brooding and powerful, or on the flaming side. At any rate, our beloved Angus pulls it off and is the most entertaining part of the movie.

THE UPSIDE: Angus in black leather... 'NUFF SAID.

THE DOWNSIDE: Angus in black lipstick.

IN SHORT: Warriors of Virtue is a fun little bit of fluff. If you're a dedicated Angus fan without a four year old running about to use as an excuse for renting it, go ahead and see it.

Yup... you guessed it... I got it on video from Blockbuster.... and no, I don't have a four year old, unfortunatly... I borrowed someone else's...



---



FACADE
(take this film and BURN it)

As I sit down to write this, I'm filled with a sense of embarrassment, fear and (dare I say it), loathing. Facade may very possibly be the worst movie ever made. How it ever got made is a mystery to me. There was no plot. The dialogue was childish and at times offensive. The acting was even worse than that (yes, our beloved Angus included). It had nudity for nudity's sake. I think it was trying to be Pulp Fiction and it FAILED miserably. Angus, honey, if you're reading this, email me and tell me that you did it because you were REALLY desperate for money. Tell me that you owed someone a HUGE favor. Just don't tell me that you did it because it seemed like a good idea at the time. If you don't believe me, look at Amazon.com's viewer reviews...

http://www.amazon.com/exec/obidos/ts/video-customer-reviews/0767811402/internetmoviedat/104-8875972-8052424

THE UPSIDE:(I can't believe I found one, but I did) There's three seconds towards the end of the movie where Angus gazes on a woman and you can see on his face all the passion and depth of which he is capable. I'd love to be looked at that way. 'NUFF SAID.

THE DOWNSIDE: The ENTIRE rest of the movie.

IN SHORT: Facade is a complete and total waste of time. Don't rent it. Don't watch it. Don't even think about it. If you should happen to see a copy of it floating around, toss it in the trash.

okay.... you can get this at Blockbuster..... but I think every copy should be burned post haste.



---



NEVADA
(holy crap this movie is good!)

For the past two hours, I sat in spellbound silence. When the credits rolled, I ran for the bathroom because I wouldn't go while the movie was on. Amy Brenneman stars as a woman who finds herself if a one-horse town in the picturesque Nevada desert. I can't say anymore than that or I'll give it away. Maybe I thought it was so good because I could so closely personally identify with the characters. Maybe it was just our beloved Angus. Who knows? What I do know is that this is a movie that is definetly worth a look.

THE UPSIDE: Angus was *really* good in this one. And oh, how I wish I was in Amy Brenneman's shoes. 'NUFF SAID

THE DOWNSIDE: Angus still can't do an American accent.

IN SHORT: Nevada is a good movie all around. I would recommend it even if Angus wasn't in it.

According to the IMDb, it is available on video, but I watched it on the Sundance Channel.



---



THE BRYLCREEM BOYS

Personally, I have a thing for men in uniform, but anyone who knows me knows that. The BrylCreem Boys has plenty of men in uniform. Bill Campbell stars as a WWII Canadian RAF airman who gets shot down and ends up in Ireland. The Irish, wanting to stay out of the war, hold him with the rest of the POW's in a camp for the duration of the war. The twist is the Irish hold the Allied and the German POW's in the same camp, with only a barbed wire fence between them. Enter our beloved Angus. He plays the German pilot shot down by Bill Campbell. Now, if that's not enough, enter the inevitable girl (played by Jean Butler of Riverdance fame). This movie has it all: romance, lots of shooting, fist fights and one of my other favorite actors, Gabriel Byrne.

THE UPSIDE: well...... Angus in uniform... 'NUFF SAID.

THE DOWNSIDE: Angus can't do a German accent either. He ended up sounding French.

IN SHORT: This is a decent movie and I had a good time watching it. Tape it if you can, it's one worth keeping.

According to amazon.com, this film is no longer in production so it's not available to buy. I've called all over my half of the state trying to find some place that I could rent it, with no luck. Thank God for HBO. Check the tv-now link on the main page to see when it's showing.



---



The Cradle Will Rock
(and Angus fell out...)

As with any movie centered around politics, Cradle Will Rock tends to be a bit confusing. If you don't already understand the differences between communism, facism, and capitalism (ism ism ism ARRGGG.. too many ism's) this film will lose you, fast. Though all hope is not lost. The thing that most confused me, other than the politics, was the casting. What on this green earth possessed Tim Robbins (this film's director) to cast Angus MacFadyen as a twenty-two year old Orson Welles? Only slightly more confusing was the choice of Cary Elwes as John Houseman. Both actors' performances were more than over the top, (as Angus tends to be anyway) they were caricatures, and bad ones at that. Maybe that's the reason Tim Robbins didn't mention Angus while being interviewed. While, on the other hand, Hank Azaria as Marc Blitzstein was brilliant. While I watched Cradle Will Rock, I didn't find myself caring about what happened to the characters or the play... until the end. The movie's finale had me smiling and clapping (and my two year old daughter as well).

THE UPSIDE: If you live for Angus' booming voice, then you'll hear pleanty of it in this one. He does a lot of yelling, and flailing of arms (I almost started to wonder if he didn't have a fly buzzing around his head constantly).

THE DOWNSIDE: I think we all realize that Angus tends to go a bit overboard with his performances, and needs to be reined in. That didn't happen with Cradle Will Rock, but I don't blame Angus. I blame Tim Robbins' direction, or lack thereof as the case may be.

IN SHORT: If you're a history/politics junkie, see the movie. If you love Angus as much as I do, see the movie. There are bright spots to this movie, though they are few and far between and, for the average movie goer, not worth waiting for.

Sorry guys, I watched this one on PPV.. You'll have to find it yourselves....

Fritters Note: I snagged the above image from Amazon.com, who is selling the videotape for an outrageous amount, but the DVD for a reasonable amount. If you really want this, consider buying a DVD player, it's the same cost as a video copy!



---



TITUS

Everyone out of high school knows how difficult it can be to read Shakespeare, and watching it performed isn't much easier. Every once in a while a film comes along that makes the archaic language come alive. Hamlet (the one with Mel in it.. there he is again.. geez.. can we ever get rid of this guy????) is one. Julie Taymor's Titus is another. Granted, in the beginning, you have to really pay attention to each word, though by the end I found myself completely understanding it without effort. It is visually breathtaking and seamlessly performed. Our beloved Angus plays Lucius, the eldest son of the war hero Titus (brilliantly performed by Anthony Hopkins). Angus' portrayal of the character was, in my humble opinion, a bit stiff and woefully short. Though he is in almost all of the scenes somewhere in the backround. Is it a must see for all Angus fans? I'd say yes. It's not often that one gets the opportunity to see him in something Shakespearian.

THE UPSIDE: I know not everyone has the same attraction to military uniforms that I do, but even failing that, most of the movie he's walking around in this leather looking, very ominous black cape..*shivers*...and the short cropped hair.. *shivers again*... Plus the fact that he managed to not over do his performance.

THE DOWNSIDE: Titus Andronicus is one of Shakespeare's most violent plays. It pulls no punches and some might find it's subject matter a bit offensive, although the viewer is spared from most of the most heinous acts.

IN SHORT: Without our beloved Angus, this movie would stand on it's own. It is a compelling story that brings the viewer right into the mind of it's war hero protagonist and holds us there through stunning and brilliantly placed imagery.

I rented this one at a local type video store, though I know Blockbuster carries it.



---



SECOND SKIN

It seems this little ditty has not only bypassed theaters, but also video and gone straight to HBO, not that it's a bad thing, mind you. I don't know how much longer I could have waited. This is, by far, Angus' biggest part in a film to date. It's almost more Angus than I can handle. Though I doubt that is the starring role that all of Angus' fans have hoped and prayed for, it's a start. I can't say too much about the plot as it's almost complicated and I don't want to give anything away, but I have to say that I find this role to be his most genuine. It's as close to Angus being himself as he's ever been before. He has somehow found a way to not overwhelm his performance with theatrics and overacting. The other noteworthy performances came from Natasha Henstridge (you might not remember her as the cheesy alien chick in Species) and the infamous Peter Fonda.

THE UPSIDE: Angus getting *censored* really good, several times. Though I must admit that the shower scene from Nevada was a heck of a lot more sensual, but beggars can't be choosers.

THE DOWNSIDE: The story could have been better and more focus put on the more interesting character that Angus played, but all the sex made up for it.

IN SHORT: In short, Second Skin is, I would say, a must see for any fan who just wants to see Angus in a compromising postion. For the average moviegoer (or channel surfer, as the case may be) just keep looking..