This webpage is dedicated to Angus Mac Fadyen who played Robert the Bruce in Braveheart (in case you weren't paying attention...) Please click one of the links on the left to learn more about him! All fans who have info feel free to mail me with it! I will include it in the fan section and thank you up and down!!!





---
COMING SOON-ISH TO AN ABC AFFILIATE NEAR YOU!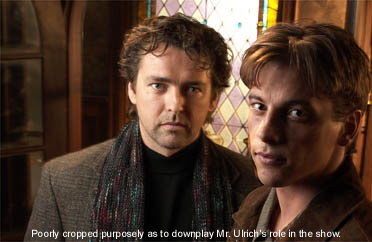 MIRACLES
An ABC mid-season replacement show at 10 pm on Mondays in January 2003. It stars some guy named Skeet Ulrich, whoever HE is, and our own beloved Angus as "Father Alva Keel". Follow this link right here to learn more about the interesting, spooky and yet, inspirational plot!

"Bless me father, for I have had some verrrrry impure thoughts. Let me describe them to you in detail..."


---
More New Stuff!! Thanks to a very generous and scanning fan of his we can now offer you a glimpse of Angus' very own resume!! Click on the word resume back there to have it open in a new window for perusal and thanks to the lovely person who scanned it who I was so callous as to forget their name. Shoot me. Baaad webmaster, baaaad. No cookie.
---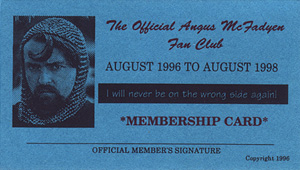 Are you a member of the Official Fan Club? Of COURSE you aren't , there isn't one anymore!! But if you like, you can always print this up and write your name on it to pretend you were a fan even way back then....in the ollllllden days! (open the image in a new window before printing, this one is shrunk for layout purposes)
---


You can reach Angus through his agent, Tracey Brennan of ICM Talent, by sending e-mail to tbrennan@icmtalent.com and marking it as personal for him. Don't expect a reply, he's not terribly fond of mail for some reason....Also, according to the BBC, you can reach Angus by Snail Mail at:



Angus MacFadyen
c/o I.C.M. Oxford House
76 Oxford Road
London W1R 1RD




Or try contacting the Los Angeles office for information at:



International Creative Management
8942 Wilshire Blvd.
Beverly Hills , California 90211
United States
Phone: 310-550-4000







Bring the AngusFun home!

Own a plastic Angus of your very own! Make him dance! Make him sing! Make him get up close and personal with Strawberry Shortcake! See if Angus can bounce when tossed aimlessly at the dog! Purchase a little plastic Angus of your very own TODAY! Available at all fine online auction sites now!

**WARNING** NOT FOR INTERNAL USE











Links for more information...




Http://www.staciwilson.com/yayavideo.html has a downloadable real video interview from the red carpet at the Ya-Ya Sisterhood premiere and theres a nice Angus chunk innit.

http://www.tv-now.com/stars/angusmac.html will tell you when this month Angus is on TV!

http://www.nicklyon.co.uk is all about Braveheart and William Wallace!

Still Breathing Official Website

Official Titus Website

www.CLAUDIACHRISTIAN.net
Okay, I know they're not together anymore, but you'll be hard pressed to find a celebrity as nice or as appreciative of her fans (unlike SOME people, not mentioning names). So why not check out her site and try and find her on TV? She's really worth checking out.



The more you click
this button the
happier I get...
Look! An Award!

I'm a Key Resource!