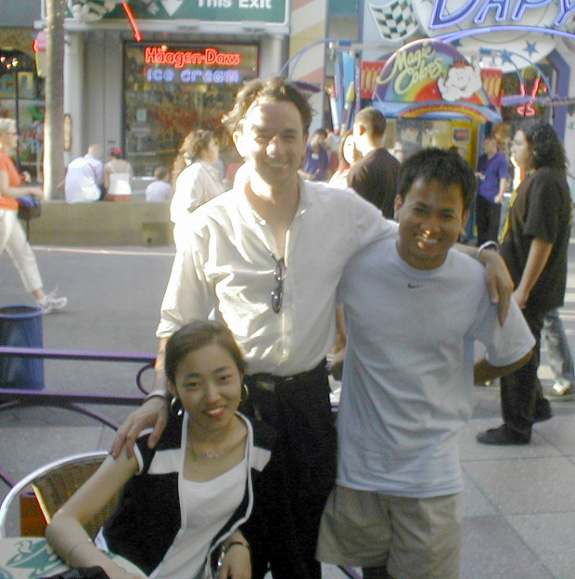 Aetolus, Dale and Celina (her english name, not even gonna ATTEMPT her real name, if I can't say it, I can't spell it...) at Universal Citywalk. One of the places that all Angelenos are required to take visitors by City Law.



Aetolus at Olvera Street, an eency tiny piece of Tijuana, Mexico, in de heart of L.A. He's playing with my clip on sunglasses after eating a taco.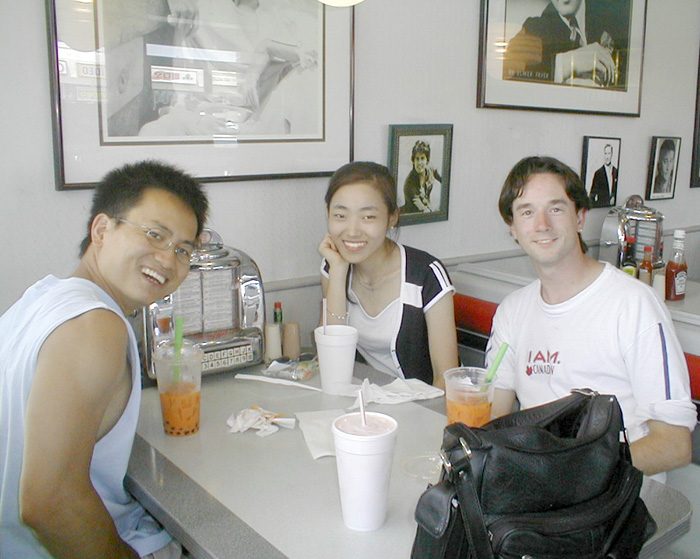 Ahhhh, all of us sitting in Stars Diner, a 50's cafe, blissfully unaware that my car battery is dying as we sit there smiling and drinking Thai Iced Tea. It's my favorite drink so I was able to foist a cup on all of them. Notice that, strangely enough, although this is a 50's diner, there is a picture of Eric Estrada smiling out at us.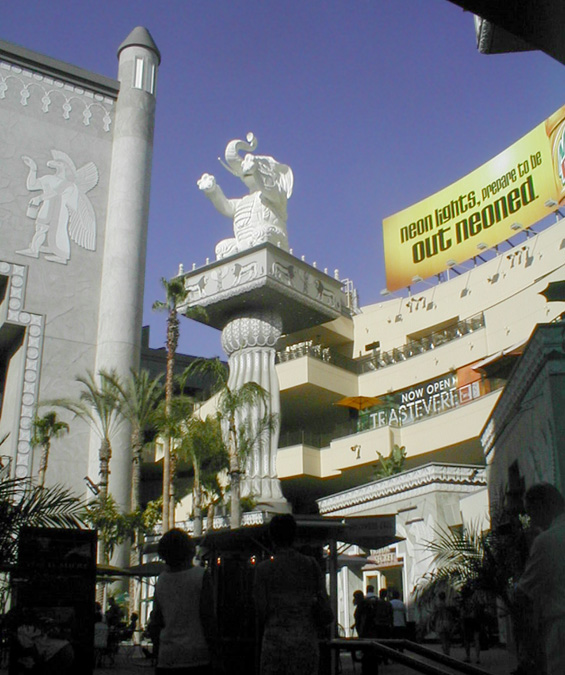 Hollywood and Highland, named after it's intersection, more accurately the Hollywood Mall. Lots of chichi stores where if you have to ask you can't afford it. I liked the elephants.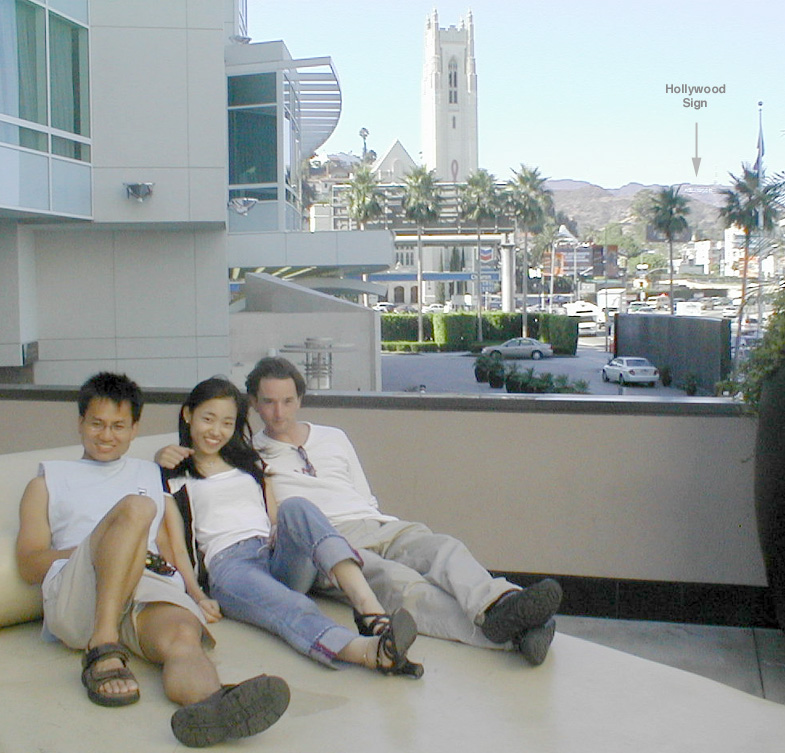 Dale, Celina and Aetolus sitting on a huge fake cement chaise lounge in front of the barely visible Hollywood sign. This place was obviously designed specifically for tourists to take pictures. Despite many buildings in the area, nothing large between the photo op and the Hollywood sign.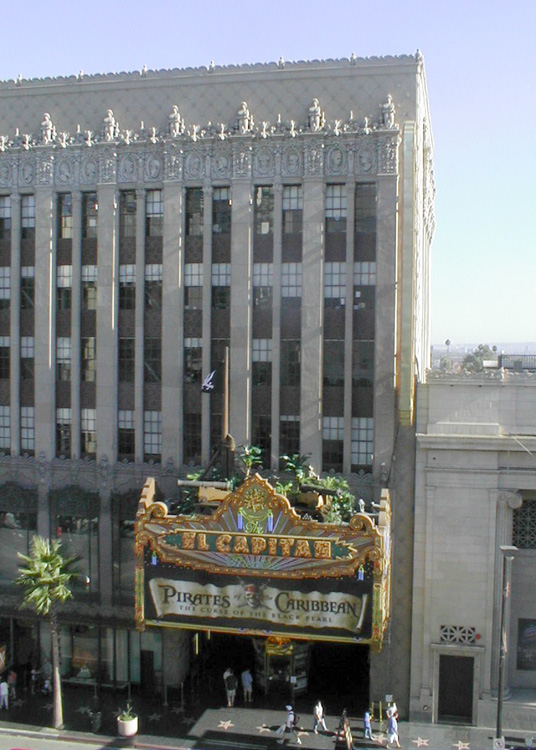 The El Capitan Theatre. Once a beautiful old theatre, it fell into ruins, was made gorgeous again and was quickly swallowed up by the Disney Company. They keep it beautifully, but alas, only show Disney movies. The nice thing is they tend to make big extravaganzas of everything they show, with a pre-show, exhibits and neato stuff like what they did to the marquee here. Note the pirate flag! Avast! Also, I cropped this so you could see some of the spiffy architecture in Los Angeles.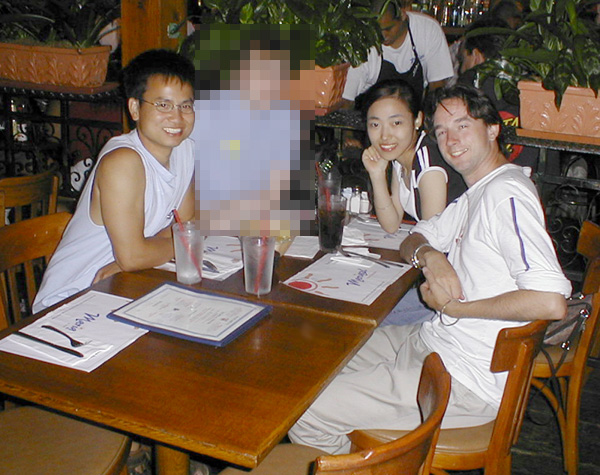 The four of us at Mariasol (scroll down if you follow the link), which is a Mexican restaurant at the very tippy end of the Santa Monica Pier. Waves on one side, ocean on the other and all the chips and salsa you can eat right in front of you (bottomless bowls are traditional here, I thought they were everywhere, but it seemed to surprise the rest...). Here, you can see Dale, Me, Celina and Aetolus waiting for our food. And waiting. Thankfully, the place had a lot of atmosphere.

Okay, okay, fine, click on the pic to see it without the mosaicing. You annoyance.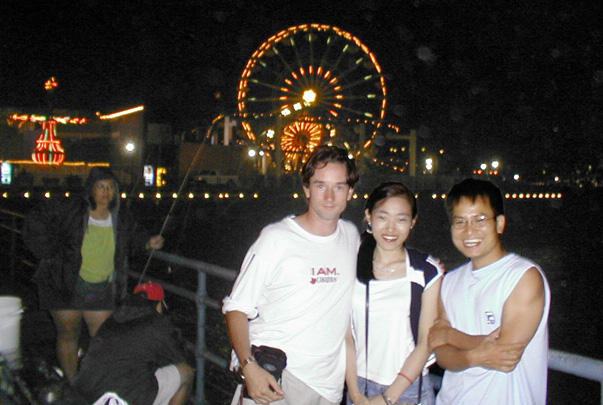 Aetolus, Celina and Dale in front of Pacific Park, which is the amusement park on the Santa Monica Pier (link goes to piercam). Here, everyone is smiling in the hopes that the camera will not reveal how very very cold it is with no windbreak.

The rest of them went to Catalina Island Sunday, which is absolutely frikken gorgeous, but I wasn't there so no pics. Besides, I'm trying to get this page up quickly for those few who are actually waiting for it.